CIPHERTRACE ARMADA™ FOR BANKS & FINANCIAL INSTITUTIONS
CipherTrace Armada provides cryptocurrency risk control for Banks & Financial Institutions.
Some of the world's leading banks use CipherTrace Armada to mitigate cryptocurrency compliance exposure.
CipherTrace Armada helps banks, payment providers and regulators identify virtual currency-related transactions and understand how their institutions interact with risky virtual asset service providers (VASPs). As the use of cryptocurrencies grows, tracing suspicious activity in order to minimize risk is imperative. CipherTrace Armanda helps to identify and report potentially suspicious activity by integrating with leading transaction monitoring platforms like NICE Actimize and FeatureSpace.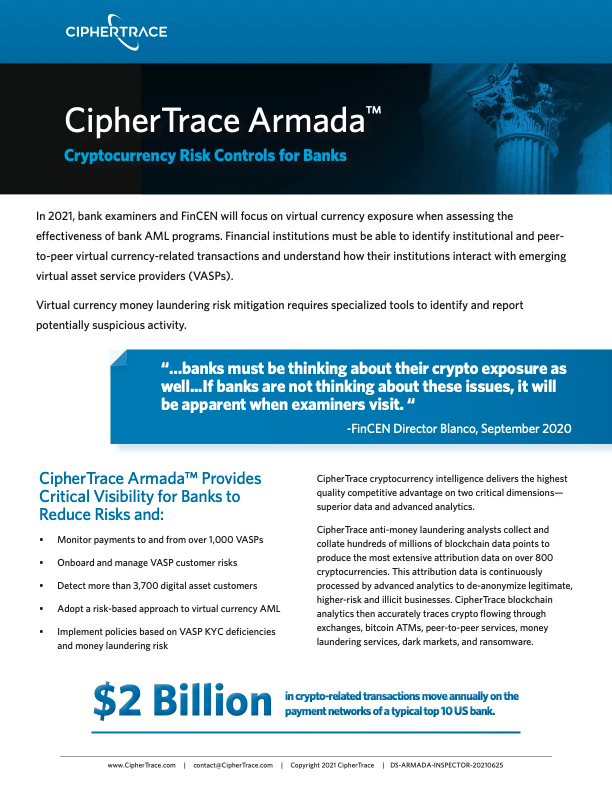 The CipherTrace Armada Competitive Difference
Provides critical visibility into risky cryptocurrency blind spots
CipherTrace Armada works with a bank's existing monitoring tools to identify transactions with Virtual Asset Service Providers (VASPs) including those with demonstrably weak KYC, risky transactions, or operating as unregistered money service businesses (MSBs).
Conducts (Know Your Customer) KYC & Due Diligence to identify virtual asset customers, VASPs, and unregistered MSBs
CipherTrace Armada analyzes KYC and transaction risks on over 500 VASPs. Armada mitigates cryptocurrency AML and sanction violation risk for financial institutions by identifying customers obfuscating their crypto intentions, flagging transactions to and from high-risk crypto counterparties, and collecting evidence of the counterparty risk.
Blockchain Analytics & Cryptocurrency Intelligence
CipherTrace Armada offers a graphical dashboard that provides users with the ability to drill down on blockchain entities for onboarding and monitoring. The easy-to-understand reports allow users to analyze historical data and trends to inform future decision-making.
In-depth analysis of 1,200 Virtual Asset Service Providers' KYC Processes
Analyzes and probes the Know Your Customer (KYC) processes of over 900 VASPs in more than 80 countries, CipherTrace identifies VASPs with demonstrably deficient KYC processes that could be exploited by money launderers, criminals, and extremists. The CipherTrace Attribution Team tests all VASPs using a standardized criterion and rates them as weak, porous, or strong based on how easy it would be to launder money through the VASP after opening an account.
Delivers Crypto Risk Intelligence + Unregistered MSB Feeds
CipherTrace Armada provides customized payments fraud intelligence on bad actors using cryptocurrencies to sell stolen account credentials, prepaid cards, credit card dumps, ATM skimmers, and phishing kits. Stay up to date with actionable advisories on emerging crypto crime, cryptocurrency-related malware and ransomware threats to your financial institution.
CUSTOMER SUCCESS STORY
CipherTrace's New Crypto Tracing Tool Is Meant for Banks
CipherTrace Armada "plugs into" a financial institutions existing transaction monitoring system,by monitoring illicit activity via machine learning, clustering algorithms and CipherTrace's database of high-risk entities.
"Crypto investigations firm CipherTrace has developed a bank transaction monitoring tool, CipherTrace Armada, that flags payments to high-risk virtual asset service providers (VASPs)."
— Coindesk
Education
Certified Cryptocurrency Risk Specialist
Gain necessary knowledge to identify, assess and mitigate cryptocurrency risk exposure.
Geographic Risk Report: VASP KYC by Jurisdiction
Crypto Crime Falls as Platforms Step Up Security Measures
MAY 05, 2021 BY CHRISTOPHER FOWLER
Analysts at CipherTrace Armada weren't surprised to find out one prominent US exchange had received $3.5 million worth of BTC directly from criminal sources over the past year despite having strong KYC. Interestingly this is just a tiny figure compared to how much the platform sent to criminal-associated addresses; $36.7 million. The general consensus is that these transactions should have been stopped and can be stopped by using adequate AML software.